Coming Soon
Skyler "Ray" Davis is an addict in recovery & A Hip-Hop artist based out of Portland, Oregon. You are not alone this holiday season. HOW JFT
---
HEART CORE HEALING OFFERS MEDITATION CLASSES, SOMATIC BREATHWORK CLASSES AND MUSIC EXPRESSION GROUPS. IN-PERSON AND ONLINE GROUPS FOR MIND/BODY/EMOTIONAL/SPIRITUAL WELLNESS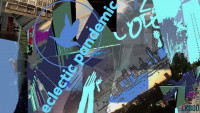 Subscribe to podcast
Every fourth Sunday 8:00pm - 10:00pm
Not everything in day to day life has been as hectic and unnerving as mass Media seems to project We all do come together through acts of love, faith, resilience, perseverance, and a strong sense of what our community is struggling with to react with compassion and attention to the details of what is actually occurring in our city.
Eclectic Pandemic is a community involved show highlighting different organizations, services, programs, and anything or anyone that helps our planet, our animals, our plants, our water and our humans.
The song choice reflects the topic of the show and includes requests from the main interviewee and Thomas of Eclectic Pandemic.
Politically correct or not. 
Non-judgement.
Without bias.
For us all. 
Together."