We are Volunteer-Powered, Non-Commercial, Listener-Sponsored, Full-Strength Community Radio for Portland, Oregon, the Pacific Northwest, the World
and Beyond! 💫✨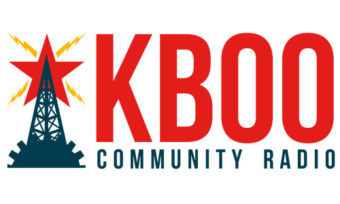 Frequencies:
We broadcast at
90.7 fm in Portland

104.3 fm in Corvallis

91.9 fm in Hood River
Core Values:
Values that are the essence of KBOO and remain intact no matter how the station changes:
Community: local, accessible, empowering. welcoming, inclusive, participatory, involved
Progressive Perspective: questioning, vital, uncensored, controversial, activist resource, educational, journalistic integrity, reflecting justice, peace, sustainability and democracy.
Emotional Maturity: respectful, honest, fair, positive, peaceful, non-violent, engaging, open
Diversity: valuing, embracing, bridging, listening, understanding, giving voice
Leadership: bold, exploring, independent, cutting edge, responsible, excellence
Creativity: eclectic, traditional to experimental, idiosyncratic, innovative, iconoclastic. evolving, compelling
Mission Statement:
KBOO is an independent, member-supported, non-commercial, volunteer-powered community radio station. KBOO embodies equitable social change, shares knowledge, and fosters creativity by delivering locally rooted and diverse music, culture, news, and opinions, with a commitment to the voices of oppressed and underserved communities.
Vision Statement:
Grassroots
KBOO fearlessly strives to deliver powerfully just, lovingly eclectic, vibrantly provocative grassroots content while honoring our growing radical revolutionary legacy.
Service
KBOO commits to providing an inclusive, empowering atmosphere to decolonize mass consciousness with humility and integrity, making a lasting and evolving impact on our communities.
 
Fun
 
KBOO embraces a creative climate that emphasizes fun, truth, beauty, joy, peace, love, and justice.
Programming Charter
KBOO shall be a model of programming, filling needs that other media do not, providing programming to unserved or underserved groups. KBOO shall provide access and training to those communities.
KBOO news and public affairs programming shall place an emphasis on providing a forum for unpopular, controversial, or neglected perspectives on important local, national, and international issues, reflecting KBOO's values of peace, justice, democracy, human rights, multiculturalism, environmentalism, freedom of expression, and social change.
KBOO's arts, cultural, and musical programming shall cover a wide spectrum of expression from traditional to experimental, and reflect the diverse cultures we serve. KBOO shall strive for spontaneity and programming excellence, both in content and technique.
History
A group of Portlanders, disgruntled at the lack of a classical music station, organized themselves as Portland Listener Supported Radio in 1964. They had heard of Lorenzo Milam, a former KPFA volunteer, and the success of the station called KRAB that he had started in Seattle. Lorenzo Milam agreed to help them organize a station, and after a series of meetings, Portland Listener Supported Radio applied for a license for a Portland radio station.
Read more about KBOO's history
Governance
KBOO is a union shop - all regular, non-interim employees are represented by CWA Local 7901.
KBOO is governed by a Board of Directors elected by the membership, and a small staff which help coordinate the day-to-day operations and the hundreds of volunteers who help make this community effort a reality.
Click the links below for more information about each of these parts of KBOO's democratic structure: