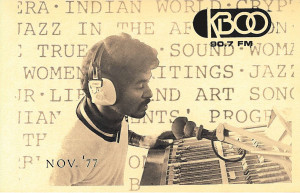 The Birth of Community Radio
In 1949, a new kind of radio station went on the air. It was KPFA in Berkeley, California, a station of the Pacifica Foundation. The concept of listener-sponsored radio was pioneered at KPFA by Pacifica's founder, Lewis Hill. His friends had told him he was crazy. Who would ever pay for what they could get for free? But Hill was banking on the idea that non-commercial, listener-supported, community radio was worth paying for.
Pacifica's philosophy broke new ground, striving to "encourage and provide outlets for the creative skills and energies of the community ... to conduct classes and workshops ... to serve the cultural welfare of the community ... to contribute to a lasting understanding between nations and between the individuals of all nations, creeds and colors ... to gather and disseminate information on the causes of conflict between any and all of such groups ... to promote the study of political and economic problems, and of the causes of religious, philosophical, and racial antagonisms ... to obtain access to sources of news not commonly brought together in the same medium ..."
Earning the label "First Amendment Radio," Pacifica offered news, public and cultural affairs, and music never before dared on radio: The avant-garde, the unpopular, the controversial, the in-depth, hard-hitting investigations. All this occurred in the face of legal and political attacks which threatened its very existence.
In 1959, Pacifica started another station in Los Angeles called KPFK. Then in 1960, it acquired WBAI in New York City. Pacifica had proved that listener-supported radio could survive and grow. Now the five Pacifica network stations are KPFA in Berkeley, KPFK in Los Angeles, KPFT in Houston, WPFW in Washington, D.C. and WBAI in New York.
How KBOO Started
A group of Portlanders, disgruntled at the lack of a classical music station, organized themselves as Portland Listener Supported Radio in 1964. They had heard of Lorenzo Milam, a former KPFA volunteer, and the success of the station called KRAB that he had started in Seattle. Lorenzo Milam agreed to help them organize a station, and after a series of meetings, Portland Listener Supported Radio applied for a license for a Portland radio station.

KBOO's call letters were selected based on a popular marijuana strain called "Berkeley Boo". Milam helped several other communities start their own stations. Some of KBOO's sister stations bear Milam's witty trademark: KCHU, WAIF, WORT, KDNA, KTAO, KUSP, etc.

Milam asked KRAB volunteer David Calhoun if he'd be willing to help organize the new station in Portland. Calhoun, an ex-monk and 3rd year medical student, packed his VW with a transmitter from Seattle, and moved south.

Sleeping on couches and bumming meals, Calhoun and others, including volunteer Gray Haertig put together what was needed for a community radio station. A basement room was donated on Third and Salmon Streets, in downtown Portland. The space was barely big enough for two tape recorders, one turntable, and Calhoun. About thirty volunteers came together to help out: society women, movement radicals, professional broadcast engineers, and musicians.

At a cost of less than $4000, KBOO Community Radio was on the air in June of 1968. The total monthly station budget was $50. The total output was only ten watts less than an average light bulb. A new and important force on Portland's airwaves was born.

Initially, KBOO was on the air whenever there was a volunteer to flip a switch and activate the repeater signal from KRAB.

But almost immediately, the station began to grow. KBOO volunteers lugged big Ampex tape recorders to harpsichord recitals, political events, and neighborhood meetings. When the Berrigan brothers or Joan Baez were in town, they were invited to the KBOO studio. Local poets discovered they had an electronic outlet. A wide variety of new music hit Portland's airwaves -- classical, rock and folk music.

Listeners began to tune in. Money began to dribble in from listener-subscribers. Bach buffs twisted their antennas to pick up KBOO's tiny signal among the megawatt giants. One fan that couldn't get KBOO at home used to drive downtown and park to listen on her car radio. Subscriptions were drifting in.

KBOO continued to grow, despite a subsistence-level budget. More volunteers were turned on to the idea of community radio, resulting in more locally originated programming.

By the summer of 1970, a used 1000-watt transmitter was installed, enabling KBOO's audience and subscriptions to grow. KBOO could be heard in much of Northwest Oregon.

After three years, KBOO outgrew its studio, and moved to a storefront on SE Belmont Street near 31st Avenue. Walls of the makeshift studios were lined with egg cartons for sound insulation. The restroom graffiti achieved local notoriety for its depth and sheer quantity. Two desks were shared by everyone.

But the station was growing up. By 1972, the non-profit KBOO Foundation was born, with an interim five-member Board of Directors. The umbilical cord to KRAB was being cut. By 1973, the staff had grown to five, with about 50 active volunteers. About 600 subscribers donated an average of $20 a year. Station Manager John Ross got an $80,000 federal grant to help purchase equipment.

KBOO Comes of Age

In 1975, the 800-strong KBOO Foundation elected its first Board of Directors. The KBOO Foundation and its officers got the license and ownership of the station. KBOO became fully independent of KRAB and its parent, the Jack Straw Memorial Foundation. After 10 years, KBOO had come of age.

The station moved again, in 1977, to SW Yamhill Street, and soon expanded broadcasting to 24 hours a day on a regularly scheduled basis. KBOO was broadcasting at 12,500 watts. Rapid growth came to KBOO in its new downtown location. Subscribers soared from 1200 in early 1978 to well above 2000 by 1980. About 300 volunteers gave KBOO one of the strongest volunteer programs in the nation.

In 1980, the station hired its first new director, and began regular new productions. Then in 1981, urban renewal downtown forced a search for a new home. KBOO found its present location at 20 SE Eighth Avenue. Through a massive volunteer effort, a new station was built in 1982 in an empty warehouse. For the first time, KBOO would own its own home.

In the early '80s, KBOO broadened its commitment to multicultural programming. New Spanish- and Asian-language programs were added. A strip of African-American musical programming was added in 1981. A Hispanic strip followed in 1984. News and Public Affairs Director Ross Reynolds and volunteers teamed up to organize a nightly newscast, supplemented by a new wire service and national newscast from Pacifica Radio. A new station, KMUN, was launched in Astoria through KBOO's help, much as KRAB had nurtured KBOO. Funds were raised to purchase the new building and KBOO was in the black for the first time in memory.

In 1986, the building was purchased. Power was boosted to 23,000 watts, and KBOO began broadcasting in stereo for the first time. A major federal grant in 1987 allowed purchase of new studio equipment. A satellite dish was added on the roof, and the station bought a remote transmitter, allowing live remotes of community events. KBOO's success was evident on the radio dial, as new commercial and public stations aired music unheard of a decade earlier.

Listening Area Expands with New Translators

The '90s was the decade when KBOO expanded its listening area to most of Northern Oregon. In 1991, the station set up a translator in White Salmon, Washington, allowing KBOO to broadcast into the Columbia Gorge. KBOO also has a translator in the Corvallis area.

In the summer of 1991 KBOO moved its transmitter to a new location on the 550-foot KGON tower on Portland's West Hills. The antenna is now 300 feet higher than before, giving us much broader range. Our wattage increased to 26,500. Reports from jubilant listeners came in from the coast and outskirts of Eugene, saying they were hearing KBOO clearly for the first time. KBOO continues to grow and improve with the ingenuity, hard work and enthusiasm of its volunteers and community.


KBOO Enters Cyberspace

At noon on July 31, 1999, KBOO began streaming online via this very website. The timing was symbolic, as demonstrators were gathering in Berkeley, California, at that very moment to support beleaguered KPFA. We now have a worldwide listenership, received feedback and financial support from listeners as far away as Japan and Europe. We continue to strive to take advantage of new technologies, and we invite your suggestions and participation.
 
On October 1, 2000 the KBOO Evening News Department went to a full hour broadcast, produced Monday - Friday by fifty volunteers with material both self-produced and from outside sources. Today KBOO has nearly 70,000 listeners, and over 6000 subscribing members.  As always, we're driven by our goals of making radio and information resources more accessible to the community, and by continuing to provide training, free of charge, to volunteers who keep KBOO on the air.
-------------------------------------------------