Air date:
Tue, 10/12/2021 -

11:30am

to

12:00pm
More Images: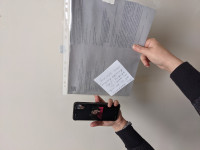 Ilknur Demirkoparan on a new show called "1989."
On Tuesday Oct 12, 2021, at 11:30 a.m. Joseph Gallivan interviews Ilknur Demirkoparan [PRONOUNCED Eelk-noor Deh-meer-koh-pah-run] about a new show called "1989." Demirkoparan runs the MinEastry of Postcollapse Art and Culture, a gallery and think tank in the Ford Center with her sister Vuslat D. Katsanis [PRONOUNCED Voos-laht D. Kaht-sah-nis] They put out a call internationally asking artists what the year 1989 meant to them. She talks about what the artists made of the cultural turning point or collapse caused by the fall of the Berlin Wall, China's crackdown in Tiananmen Square, and the unraveling of apartheid in South Africa. The show of mostly painting and drawing also includes an invisible work of nothing in the middle of the room.
Recorded in Portland at the MinEastry of Postcollapse Art and Culture in the Ford Center,
on a Zoom H2N recorder on Oct 5, 2021. Edited by KBOO volunteer Ray Bodwell.
Twitter: @ilknurstudio and  @PostcollapseArt
From the website:
https://tinyletter.com/Postcollapse_art/letters/1989-opens-this-weekend

1989
Artists: Fung Yee Lick Eric, Lenka Holíková, Hagen Klennert, Vladan Kuzmanović, Naomi Middelmann, Kasia Ozga, Nathaniel C. Praska, Rodrigo Prian-García, Anna Syarova.
Curated by: Ilknur Demirkoparan and Vuslat D. Katsanis
On view:  October 8 – November 28, 2021.
* Conversation with Curators on Saturday, October 9 from 2-3pm. RSVP encouraged.

MinEastry of Postcollapse Art and Culture is pleased to present 1989, an international group exhibition by nine artists working across multiple media. This is the first in a series of exhibitions unfolding the resonances of the year, 1989.
 
To speak of 1989 is to speak of revolutions. For some, it marks the end of history as the last chapter of a long-winded ideological battle; victors packaging promises of flashy freedoms. For others, it marks the beginning of a new era of force; time marching forward in clanking servitude of control societies. To speak of 1989 is to speak of collapse. It is to speak of the many befores and the many afters across multiple centers and peripheries. From the fringes of the former West to the afterworlds of an emergent East and all across the global South, 1989 rips through the primacy of borders, insisting instead, on another vision of life, one built upon our shared and ever-shifting ground.
 
Hailing from Russia, Poland, Czech Republic, Serbia, Hong Kong, Mexico, Switzerland, Germany, and the US, this exhibition brings together nine artists whose works speak to some element of life after collapse. Widely construed through a diverse collection of painting, drawing, installation art, sculpture, photography, conceptual emptiness, and textile, each artist engages aesthetic, economic, geographic, sociological, political and psychological rupture. Taken together, the exhibition highlights postcollapse as a critical framework for contextualizing the contemporary practices of artists from these dynamic regions since 1989.
 
MinEastry of Postcollapse Art and Culture is an artist-run space and think tank dedicated to exploring our global contemporary from the vantage of postcollapse art and theory. Our frames of reference begin with the human experiences from East Europe and West and Central Asia since the fall of the Berlin Wall, and permeate to every corner of our diasporic world-presence.

About the Artists of 1989

Fung Yee Lick Eric (b. 1985 Hong Kong, MA Fine Arts CUHK & MA Museum Studies Leicester), is a mixed media and ink artist, with a particular interest in exploring and understanding the origins of human consciousness and their perspective of seeing things. He seeks to apply his art practice in response to the contemporary issues of human's senses, emotions and identity issues. He is the awardee of the Hengshan Biennial Awards for Calligraphy Criticism, Osage Art Award and Cactus Prize in 2020. He was also recently shortlisted for the The Hong Kong Human Rights Arts Prize 2021 and Asia Art Future Prize 2021.
 
Lenka Holíková (b. 1984 Cheb, Czech Republic) is a visual artist, illustrator and university professor. In 2011, she completed her bachelor's and master's degree in plastic arts, with a specialty in drawing, at Hradec Králové University, Czech Republic. In 2008 she did a half-year residency in literature and cinematography at the university Denis Diderot, Paris, France. In 2021 was selected by 8B kunstkollektivet, Unnerud, Denmark, for the realization of a land art project "UDEN FRYGT". In 2020, she carried out a half-year artistic residency at Chasen Thajni: house of all in Santa Inés Ahuatempan, Puebla, Mexico. The same year, she was awarded recognition by the Ministry of Culture, Puebla.
 
Hagen Klennert, (b. 1962 in Erfurt, GDR), grew up in East-Berlin working as a stage painter. In 1985, Klennert escaped from East to West-Germany and started freelance work as an artist in Hamburg, first as a book illustrator, then in solo exhibitions and collaborations with the composer Helmut Oehring. Klennert  has worked for many years as a visual artist for projects in the field of theater and music, and now lives and works in Berlin.
 
Vladan Kuzmanović, (b. 1977, Belgrade, Serbia) is a conceptual artist, avant-garde poet, folklorist, musician and theorist. He is among the first authors to use a conceptual method as the 21st century content-generation and nonsense prolific writing. As multi-media artist, he started with transparent grid images, non-exhibits, non-medium, conceptual non-tangible media, a non-artist no-intervention pieces.
 
Naomi Middelmann, Born in Switzerland, she moved to New York when she was 16. After earning a degree in Creative Writing and International Relations from Johns Hopkins University, Middelmann worked in publishing. She returned to Europe and earned a postgraduate degree in visual arts from the Visual Art School in Basel in 2009. She has moved 16 times and holds 3 passports. Since graduating from art school late 2009, her work and process has been shown in over 50 solo and group shows in galleries and art fairs in Europe, USA and Switzerland.
 
Kasia Ozga, is a Polish French American sculptor born in Warsaw, Poland, shortly after the wave of strikes in the summer of 1980 that led to the collapse of communism. She reuses, revalues, and reanimates mass-produced materials into singular artworks and inverts associations between different types of waste. Ozga's recognitions include the Kosciuszko Foundation Fellowship, Harriet Hale Woolley grant, Jerome Fellowship, and the Franconia Sculpture Park, and Paul-Louis Weiller award from the French Académie des Beaux-Arts. Her work has been exhibited in over 10 different countries and she has participated widely in residencies in Europe and North America. Ozga holds a Ph.D. from the University of Paris 8, an M.F.A. from the Jan Matejko Academy of Fine Arts in Krakow, and a B.F.A. from the SMFA at Tufts University, Boston.
 
Nathaniel C. Praska, (b. 1985, Portland, OR) whose large, textural paintings, often combining expressive painting styles with the aesthetics of graffiti, allude to the diminishing notion of the American Dream. His rugged renditions of the objects of poverty, such as gas cans, trailer homes, and monsters with crooked teeth are recurring motifs that confront a grittier existence.  Praska has exhibited his work locally and regionally in the Pacific Northwest. He has been awarded several residencies and awards, including the Calligram Foundations Fellowship. Praska lives and works in Milwaukie, Oregon.
 
Rodrigo Prian-García, (b. 1989, MX). Graduated in Visual Arts (UNAM, 2008-2012), In 2013 he carried out an arte residence at Oficina de Arte (MX). He has numerous international solo and group exhibitions. His recognitions include honorable mention (Salón Muno, 2020), first place (University Contemporary Art Fair (2013), Young Creators grant (FONCA, 2013-2014). He is currently doing a master's degree in Visual Arts Research at UNAM, where he investigates different forms of absence in objects  and actions, resorting to erasure as a technique and doing nothing as the conceptual axis of non-production of art.
 
Anna Syarova, Born in the Soviet Union in 1982, Syarova has changed two citizenships, and identifies as Russian, Bulgarian and Ukrainian. Her work is informed by national history, cultural codes, and religious platforms. She works with canvas, ceramics, textile, and graphic works. She lives and works in Moscow. 

Please follow us on Instagram for further announcements.
 
 Sincerely,
Vuslat & ilknur 
 
Ilknur Demirkoparan, aka ironBreaker, aka the barbarian, is a Turkish-born American artist whose interdisciplinary practice spans painting, sculpture, installation, performance, and digital media. Her practice explores the intersections between political power and the narration of history by tracing her own identity in time and space. While her early work evokes the bizarre and often baffling narratives of identity and otherness, with her current work, she explores the tension between erasure and endurance through the abstract language of kilims which she translates into paintings. She has performed and exhibited her work at the Berlin Biennial Art Wiki Project (2012), Highways Performance Space and Gallery in Los Angeles (2013 & 2016), and FAR Bazaar (2017). She holds an MFA in Art from California Institute of the Arts and a BA in Art from University of California, Riverside. Her recent residencies include ChaNorth in Pine Plains, New York, and GlogauAIR in Berlin, Germany. She is the recipient of the Andrew W. Mellon Foundation and Max H. Gluck Foundation fellowship awards. Demirkoparan is also the co-founder of the MinEastry of Postcollapse Art and Culture, an artist-run project space and a think tank dedicated to rethinking our contemporary moment since the fall of the Berlin Wall.  She currently lives and works in Portland, Oregon.
AND ANOTHER ASK….
Are you listening? 
KBOO Radio is a volunteer-run nonprofit and it needs your money if you are listening. 
Go here to donate. https://secure.givelively.org/donate/the-kboo-foundation/2021-kboo-spring-membership-drive
It's like an old school version of smashing the like and sub buttons. 

To hear previous episodes of this show or any of our KBOO public affairs programming, just go to KBOO dot F-M or listen on iTunes, Google Play, or wherever you get your podcasts.
Joseph Gallivan has been a reporter since 1990. He has covered music for the London Independent, Technology for the New York Post, and arts and culture for the Portland Tribune, where he is currently the Business Reporter. He is the author of two novels, "Oi, Ref!" and "England All Over" which are available on Amazon.com
Update Required
To play the media you will need to either update your browser to a recent version or update your
Flash plugin
.
Download audio file