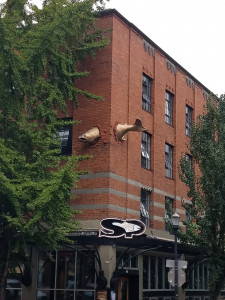 Published date:
Thursday, October 11, 2018 - 5:37pm
Produced for (Program name):
Text service for October 11, 2018 Evening News
1011 Hurricane Michael devastation
First reports indicate that at least six persons were killed by falling trees and debris, as category-four Hurricane Michael barreled ashore yesterday, in North Florida. 
Florida governor Rick Scott said that the initial recovery effort was massive, as crews attempted to clear roads blocked by fallen trees and debris. 
Power lines were down across roads and yards, as ninety seven percent of people in Tallahassee face days or weeks without electricity. 
Interstate bridges were impassable as of this morning.  Some coastal communities near Panama City appeared from the air to be largely obliterated by the one hundred fifty five mile per hour winds and massive storm surge. 
This morning, patients were being evacuated from the city's Bay Medical Sacred Heart hospital, and from Gulf Coast Regional Medical Center.
Officials in Panama City wrote on Twitter, "The damage to our infrastructure is the most widespread and severe we've ever experienced…. Thousands of trees gave way to the tropical storm force winds." 
After initially maintaining hurricane strength while barreling inland through Georgia, Michael had weakened to tropical storm status by Thursday morning, moving northeast over North and South Carolina and Virginia. 
Though maximum winds were only fifty miles per hour today, heavy rains threaten to worsen flooding conditions in areas already devastated by last month's Hurricane Florence. 
The cyclone is likely to continue across land and re-enter water in the Atlantic Ocean tonight or tomorrow. 
....................................................................................................................
1011 INT Student Barred From Entering Israel
Lara Alqasem, A Floridian graduate student, is still being detained in an Israeli Airport, with no sign of being released.
This is the longest time that anyone has been detained since last year, when Israel began enforcing a law banning anyone that has ever supported a boycott of the state of Israel from entering the country.
Alqasem, the grand –daughter of Palestinian immigrants, entered Israel on a student visa. The recent college graduate is pursuing a career in human rights studies.
She has not been heard from directly since being detained, but people who have communicated with her say that she is being held in a small room with a bug infested bed, without phone access and no internet.
Her Lawyer, Yotam Ben-Hillel stated, QUOTE "We're talking about someone who simply wants to study in Israel, who is not boycotting anything, She's not even part of the student organization anymore." END QUOTE
The Strategic Affairs Minister Gilad Erdan stated that QUOTE "If Lara Alqasem will tomorrow in her own voice, not through all kinds of lawyers or statements that can be misconstrued, say that support for Boycott Divest and sanction (BDS) is not legitimate, and she regrets what she did, we will certainly reconsider our position."
BDS is a movement that calls for peaceful action against Israel's occupation of Palestine by Boycotting, Divesting (and using) Sanctions.
                                                ###                                          ###
1011 OR BIG TOBACCO CRACKDOWN
BOTH OF OREGON'S U.S. SENATORS ARE JOINING IN A CALL FOR A CRACKDOWN ON BIG TOBACCO SOCIAL MEDIA. 
JEFF MERKLEY AND RON WYDEN ARE ON A LIST OF 15 DEMOCRATIC SENATORS SIGNING A LETTER, ASKING THE FEDERAL TRADE COMMISSION TO INVESTIGATE HOW TOBACCO COMPANIES ARE MARKETING TO YOUNG PEOPLE.
  THE LETTER SAYS THAT TOBACCO COMPANIES' USE OF SOCIAL MEDIA IS THE LATEST CHAPTER IN THEIR QUOTE, "LONG HISTORY OF USING MISLEADING MARKETING TACTICS TO ADDICT YOUNG PEOPLE TO THEIR DEADLY PRODUCTS," END OF QUOTE.
  THE SENATORS SAY THAT CURRENT LAWS ALREADY RESTRICT TOBACCO ADS FROM T.V AND RADIO, AND REQUIRE WARNING MESSAGES.                      
                          ###
1011: university of oregon runner with Cerebral Palsy wins Nike sponsorship
Justin Gallegos (Gai yay gos), a runner at the University of Oregon, has won a sponsorship from Nike to help him complete his goal of finishing a half marathon in under two hours.
Gallegos has Cerebral palsy, and runs for OU's running club. He's been running for seven years, and is Nike's first professional athlete with Cerebral Palsy.
Nike surprised the runner with a three-year contract at the end of his most recent race, which fell on national cerebral palsy awareness day.
Gallegos wrote on his instagram page that it was the most emotional moment in his seven years of running.                                      
    ###
1011 OR Mt. Hood Body
Investigators have identified the body of a Phoenix, Arizona man, missing since monday. 
A CLIMBER ON MOUNT HOOD FOUND the  BODY of 30 year old David Yaghmourian, AT ABOUT THE 83 HUNDRED ELEVATION MARK OF MOUNT HOOD today.
     Yaghmourian's BODY WAS SENT TO THE CLACKAMAS COUNTY MEDICAL EXAMINER TO DETERMINE THE I.D.
  EARLY FINDINGS ARE that  his  BODY SHOWED SIGNS OF HYPOTHERMIA AND INJURY FROM A FALL ESTIMATED AT THIRTY FEET.
  It also appears he had been trying to set up a tent, had a sleeping bag and other equipment with him.
  Yaghmourian was an arizona state university research assistant.
  Yaghmourian had been hiking on Mount Hood when he disappeared earlier this week. His body was found far higher than searchers expected him to be.                                
            ###       
1011 OR Woman sues over police brutality
A woman is suing the City of Portland for mental and physical injuries she says she suffered as a result of actions by Portland police officers two years ago.
Julie Crosse was at City Hall on October Twelfth, 2016, to testify about the upcoming vote on the police union collective bargaining agreement.
The hearing was cancelled a half hour after it began, and police began moving attendees towards what Crosse's complaint describes as QUOTE "a narrow doorway that opened directly onto a staircase." UNQUOTE
Crosse was caught in the mass of people, and claims she was shoved by three  Portland Police officers, Heidi Kreis [rhymes with "ice"], Jasmine Sutton, and a third unidentified officer.
She says she suffered whiplash and post-traumatic stress disorder, in the aftermath of the incident.
Crosse is asking for almost a million dollars in damages from the city under the Oregon Tort Claims Act.
The complaint alleges that the shoving constitutes excessive force, and that the actions of the officers were not subject to privileges under the Oregon law governing the defense of premises, because people were invited to speak at an open and public forum, and Crosse was complying with the evacuation orders at the time she says the officers assaulted her.
                             ###
1011 OR Wyden praises new Forest Service head
US Senator for Oregon Ron Wyden has, for the first time, praised a Trump administration appointee.
Wyden, a democrat, has been critical of most of the republican administration's appointees, from Scott Pruitt as head of the EPA, to Pruitt's replacement Andrew Wheeler, both of whom are skeptical of the international scientific consensus on climate change.
This time, however, a former wildland firefighter, has been assigned to head the U.S. Forest Service - a move which Wyden says is good news for Oregon.
Vicki Christiansen has been running the agency since early March, when Tony Tooke resigned amid a sexual misconduct investigation.
Yesterday's announcement made her appointment permanent.
The Forest Service oversees fourteen million acres of forest land in Oregon.
 It's also one of four agencies that oversee official Wilderness Areas in the United States.
The main issue mentioned in Wyden's endorsement of Christiansen is the unprecedented scale and duration of wildfires—especially prevention and suppression measures that require state and federal coordination.
It remains to be seen how Christiansen's tenure will affect Oregon's forests, as both fire prevention and suppression involve one of Oregon's enduring political hot potatoes—how much logging to allow, and who gets to do it.
                        ###
                                                ###