Air date:
Tue, 07/28/2020 -

6:30pm

to

7:00pm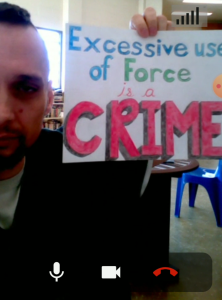 The Lane County Jail Hunger Strike continues through its fifth week as at least five pre-trial detainees continue to strike (with reports of five others striking and between 15 and 20 participants in total) demanding the release of all pre-trial and medically vulnerable detainees state-wide, in solidarity with hunger strikers elsewhere and with the most vulnerable and marginalized people incarcerated without the ability to fight for their lives.  
Strikers are now shifting their demands from focusing on the jail to applying increased pressure on the court system and state governance. While the jail is doing the bare minimum to mitigate the deadly effects of Covid-19 in incarceration, only the establishment of full preventative measures will ensure the safety of incarcerated people in the state of Oregon. This includes, first and foremost, the immediate release of all pre-trial and medically vulnerable detainees. While the jail has apparently conceded to basic Covid-19 mitigations that should have been implemented months ago, prevention of Covid-19 at a systemic level requires much further, tangible action, reflected in the updated demands.
Excessive bail, emergency orders to extend the limit of pre-trial detention from 60 to 180 days and beyond, and the racist, classist, and sexist criminalization of poverty, houseless, and other easily preventable social injustices affirmed in the latest iteration of Eugene's Community Safety Initiative and the Eugene Police Department's 21st Century Policing ordinances––all of which disappear behind bars our most marginalized, especially BIPOC, community members––only reinforce the vulnerability of incarcerated people to a deadly pandemic and the everyday violence of incarceration.
Prison Pipeline is a radio program dedicated to educating the public about the Oregon criminal justice system. Our goal is to present a unique understanding of the criminal justice system, address the root causes of crime, and challenge the status quo. We seek to promote awareness and activism in order to foster a safe, healthy, and just society.Tune in every Monday at 6:30 P.M. to hear our hosts Karen James, Adam Carpinelli, Amy Johnson, Emma Lugo, Doug McVay and Isabelle Sinclar explore the Oregon justice system with a variety of guests.
For more information contact Evan Coral, lanemutualaid@gmail.com
Prison Pipeline on Facebook: https://www.facebook.com/prisonpipeline/
Please feel free to connect with us with any questions, comments or suggestions at kbooppc@gmail.com