Air date:
Tue, 07/07/2020 -

11:30am

to

12:00pm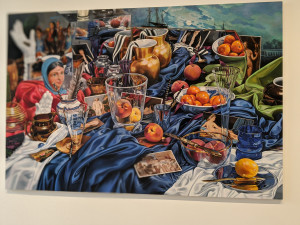 Joseph Gallivan interviews painter Sherrie Wolf about her new show Memento
On Tuesday July 7, 2020 at 11:30 a.m. Joseph Gallivan interviews painter Sherrie Wolf about her new show Memento, on now at Russo Lee Gallery in Portland. Wolf talks about her realistic still life paintings which often feature assemblages of richly textured drapery, shiny metals and glassware, while incorporating snippets of great paintings from art history.
FROM THE PRESS RELEASE:
BIOGRAPHY
Sherrie Wolf graduated from the Museum Art School, now the Pacific Northwest College of Art, Portland, OR, in 1974 and received an MA from the Chelsea College of Art in London, England in 1975. She began exhibiting her work in the mid 1970s while teaching art at PNCA. Her work is included in such collections as The Vivian and Gordon Gilkey Center for Graphic Arts, Portland Art Museum; Hallie Ford Museum, Salem, OR; the Tacoma Art Museum, Washington; City of Seattle; and Washington State Art Collection. Wolf has also been included in multiple curated group exhibitions across the country. In 2012, Wolf's work was presented in a solo exhibition at Northern Arizona University in Flagstaff, and earlier in 2014 she was featured in a solo show at the Long Beach Museum of Art in Southern California.
GALLERY TALK VIDEO (SHORT)
FROM WIKIPEDIA:
Early life and education[edit]
Born in Portland in 1952,[2] Wolf graduated from the Pacific Northwest College of Art (PNCA) in Portland, Oregon where she studied under the printmaker Louis Bunce.[1] She then went to gain a MFA from the Chelsea College of Arts in London, before coming back to Portland in the mid 1970s.[1] Whilst in London, she studied paintings and works by the Old Masters in galleries and museums across Europe, which would later significantly influence her own art.[1] Afterwards, Wolf returned to the PCNA as a teacher to support herself while she began exhibiting her work.[1]
Zebra by George Stubbs
Wolf's work is known for its postmodernism approach of appropriating elements from classical art alongside her own work.[1][3] She often uses historical art as the background to boldly colored still lives.[3] One commentator noted that by placing realistically portrayed flowers, fruit, and vases of water before reproductions of Vermeer, it was difficult to decide whether the Old Master paintings were to be read as actual backdrop, or simply as paintings used as backgrounds.[3]
An example of Wolf's approach can be seen in her 2011 print, Zebra with Cherry and Fava Bean, which faithfully reproduces an early 1760s painting of a zebra by George Stubbs as the background to an enormous still-life of a cherry and fava bean.[1][4] Wolf was fascinated by the unintentional surrealism of Stubb's original painting, which placed a realistically-portrayed exotic animal in a bucolic British landscape.[1] Her use of the still-life was chosen for texture and color, rather than for narrative or symbolic reasons, and to "reinforce the illusion of a disquieting strangeness."[1] Another example of Wolf's appropriation technique is found in the self-portrait she painted to commemorate her 60th birthday in 2012, a parody of Gustave Courbet's The Painter's Studio. Wolf placed herself in Coubert's position in the painting, and substituted other elements of the 1855 painting for their opposites (such as a cat replacing a dog, and a nude man replacing the female model in Coubert's original).[3]
Until 1994, Wolf had her own printing press in her studio, where she produced etchings alongside her drawings and paintings. Since 1994, her prints have been produced with the fine-art printer Mark Mahaffey of Portland.[1] While she also produces photogravure prints, Wolf prefers the range of color and tone possible with the aquatint technique.[1]
To hear previous episodes of this show or any of our KBOO public affairs programming, just go to KBOO dot F-M or listen on iTunes, Google Play, or wherever you get your podcasts.
Joseph Gallivan has been a reporter since 1990. He has covered music for the London Independent, Technology for the New York Post, and arts and culture for the Portland Tribune, where he is currently the Business Reporter. He is the author of two novels, "Oi, Ref!" and "England All Over" which are available on Amazon.com
This show was recorded by Zoom videoconferencing software on Friday July 3, 2020.
Update Required
To play the media you will need to either update your browser to a recent version or update your
Flash plugin
.
Download audio file