Air date:
Tue, 08/28/2018 -

11:30am

to

12:00pm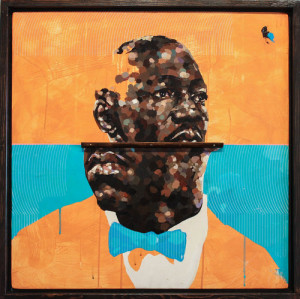 More Images: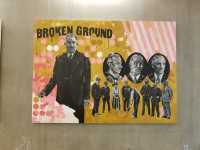 The work of Portland painter Jeremy Okai Davis has been seen in local galleries for years.  Recently, Davis has become more visible, producing a number of large-scale works and murals in Portland and beyond. He talks to Eric Bartels about public art, his shifting personal vision, and the responsibilities and opportunities for African American artists here and elsewhere.
In the work of Jeremy Okai Davis, color use and fidelity to his subjects make them feel alive, but without being too literal. The work feels really light at first glance, but on closer examination of text and posture, the work is full of conflict, an exploration of the contrast between the shiny, smiling exterior that is frequently presented on the surface and the inner, self-conscious, status obsessed mind state that so many of us endure beneath it all.
from the Portland Mercury:
Up close, Jeremy Okai Davis' paintings are a bright, colorful mess. Vivid colors form familiar details like teeth and eyes, become lost in the background, and then drip down the bottom edge. There is no one color used for skin tones; instead, it's an overlapping display of warmer to cooler shades, a visible energy field in his painted portraits. Take a step back, and there's a sense that we should know this person. "The challenge has always been translating that same emotion I felt [about a photograph] into a painting," he says.
This process is a pain to recreate digitally, but Davis says physical contact with his mediums is rewarding. "I would never be able to work solely in digital," he says. "I love getting dirty and seeing the history in the work as you make decisions that I think can be lost when you're working in the digital platform. There is no way to get all those sensations sitting in front of a computer."
Breaking away more from the high-turnover digital world, Davis is working on a solo show, An Education. The show, which he calls "a long-form self portrait," will be on display at the P:ear Gallery in April. "It's an investigation on all the things that have influenced me as a person, an African American man, a brother, son, friend, and an artist," he says. "The current cultural and societal climate has me more curious about how I fit into this world." It's a description that nods to his current show, The Information & The Inspiration, opening this Friday at Portland State's White Gallery.
These curiosities are understatements when compared to the visual works. If the reaction isn't there—if viewer doesn't want to engage with Davis' subjects—then an education is necessary.
Update Required
To play the media you will need to either update your browser to a recent version or update your
Flash plugin
.
Download audio file