Air date:
Tue, 06/08/2021 -

11:30am

to

12:00pm
More Images: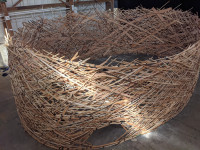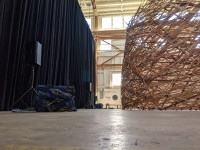 Philip Krohn on Auxart at Building 5
On Tuesday, June 8, 2021, at 11:30 a.m. Joseph Gallivan interviews artist Philip Krohn about his installation Auxart [PRONOUNCED "OX-art"], the first show in the newly opened space Building 5. The 40-foot-long cylinder, which looks like a birds nest-like is woven from cast of rips of wood and lashed together with bicycle inner tubes. Four different sound artists have created soundscapes which listeners can experience inside or outside the wooden O in the cavernous space on 29th Avenue in industrial Northwest Portland.
Krohn talks about the title Auxart, which is a play on the "aux" port, pronounced "ox," used to connect electronic sound sources, about building on the fly and in public, and about the sound of tools. His assistant, PNCA student James Houghton, also spoke to KBOO.  
Auxart official page: https://www.auxart.net/new-page
Building 5: https://www.buildingfive.org/   2516 NW 29th Ave, Portland OR
M-F | 3-7pm Sat-Sun | 1-7pm
James Houghton www.instagram.com/james__houghton
AUXART is a sound and wood installation at the newly opened Building 5 space in northwest Portland, through June 13, 2021.
FROM THE PORTLAND TRIBUNE:
At long last the new art space Building Five is open. The space, a former ship component factory, opened May 29 with the birds nest-like installation Auxart auxart.net by artist Philip Krohn. The title is a play on the "aux" port, pronounced "ox," used to connect sound sources in home electronics, cars and soundboards.
Building Five was hatched in July 2019 when Portland sculptor Dana Lynn Louis approached long time artist landlord Ken Unkeles to see if he had a space for dancers such as the FLOCK company, and installation artists, to make work and even display it. Unkeles is known for renting basic warehouse space as artist studios. He agreed and began a long process of design, permitting and construction while setting up a 501 c 3 to run the place.
Building 5, which is on the backside of artist studio complex Northwest Marine Art Works, is now a permanent artist and maker space. It bucks the trend of the decline in art spaces in Portland. Louis has the 12 months scheduled. Artists will occupy the space, making work and then showing it to the public towards the end of their four-to-six week residency. 
Krohn's art piece combines sculpture and audio. It took six weeks to build and will be available for viewing for three weeks, then disassembled on June 14 and recycled.
The wood structure is made from Creative Woodworking NW's cast-off saw rips, lashed together with bands made from bicycle inner tubes. The fabric pieces are from a T-shirt recycling company and Pioneer Wiping Cloth will turn them into industrial rags after the AUXART ends. The sandbags are made from brewer's bulk hauling bags.
Sound artists and dancers will be using the wooden ball as s stage. Four different artists made sounds to "create the experience of an audio suspension in the visual environment," according to Krohn. He explains the meta-art (art about art) thus: "AUXART is a play on the idea of using an installation space and large scale structural sculpture to amplify various creative inputs across artistic disciplines. This first project tries on the concept of an occupy-able sculpture serving as a stage or AUX port for synchronous creative voices, in this case primarily sound art. In addition to the scheduled sound design work the installation will host some intimate movement and music performances, schedule last-minute TBA (to be announced)."
According to the non profit that runs it, "Building Five provides art space for site-specific installation, performance, interdisciplinary collaborative works, film and community exhibition in Portland, Oregon. Building Five serves as a laboratory, workshop and site-specific installation facility."
https://pamplinmedia.com/but/239-news/448356-364030-artists-against-gent...
Art Focus airs live at 11.30 am on Tuesdays and is archived to the KBOO website that evening. 
https://www.facebook.com/kbooartfocus  
AND ANOTHER ASK….
Are you listening? 
KBOO Radio is a volunteer-run nonprofit and it needs your money if you are listening. 
Go here to donate. https://secure.givelively.org/donate/the-kboo-foundation/2021-kboo-spring-membership-drive
It's like an old school version of smashing the like and sub buttons. 

To hear previous episodes of this show or any of our KBOO public affairs programming, just go to KBOO dot F-M or listen on iTunes, Google Play, or wherever you get your podcasts.
Joseph Gallivan has been a reporter since 1990. He has covered music for the London Independent, Technology for the New York Post, and arts and culture for the Portland Tribune, where he is currently the Business Reporter. He is the author of two novels, "Oi, Ref!" and "England All Over" which are available on Amazon.com
This show was recorded byPixel 5 outside the Snow Bunny coffee shop in Portland on June 4, 2021.
Update Required
To play the media you will need to either update your browser to a recent version or update your
Flash plugin
.
Download audio file