It's KBOO's Winter Membership Drive! Call 877-500-5266 (KBOO) or Donate online.
Donations as of 12/01/2015 10 AM:
Drive Goal:
$55,000
---
POWfest
program date:
Thu, 02/28/2013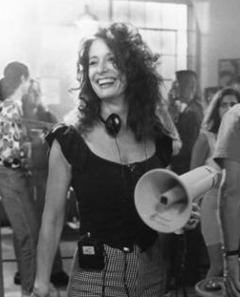 This year's Portland Oregon Women's Film Festival (POWfest) is bringing filmmakers to Portland from around the world, including guest of honor Penelope Spheeris (The Decline of Western Civilization; Wayne's World) and local director Jackie Weissman (Rock N Roll Mamas). Hosts S.W. Conser and Jenn Chavez preview the festival and the rock & roll landscape with Penelope and Jackie, and then Portland video merchant Mike Clark drops by the studio to relate the latest adventures at Movie Madness. And of course, Jenn brings listeners the monthly calendar of local film events.
Note: the date of Penelope Spheeris' appearance at the Hollywood Theatre had been mistakenly listed as March 10th on the show; the correct date is actually Saturday March 9th.