Anarkissed! When They Come After You, You Know You're Doing Something Right...
program date:
Thu, 07/26/2012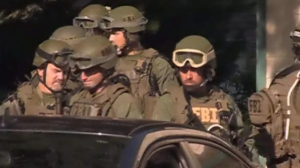 Got Anarchism?
www.greenisthenewred.com/blog/home-raids-grand-jury-subpoenas-portland-olympia-seattle/6233/
###
Action of Solidarity with Tim DeChristopher & Other Political Prisoners
3:00 PM Today at the West End of Washington Square in Salt Lake City
SALT LAKE CITY-- Exactly one year after climate activist Tim DeChristopher was sentenced to prison for disrupting a federal oil and gas lease auction as Bidder 70, the activist group he co-founded will be protesting the American Legislative Exchange Council, or ALEC. Peaceful Uprising blames ALEC for installing laws that value corporate profits at the expense of the environment and criminalize activism.
Peaceful Uprising is planning a 3 p.m. protest action on July 26 in downtown Salt Lake City at the west end of Washington Square. This action will be preceded by a moment of silence for Tim and all political prisoners.
ALEC, a stealth lobbying organization composed of corporations and thousands of state lawmakers from across the country, will be hosting its annual meeting at Salt Lake City's Grand America Hotel. Peaceful Uprising has collaborated with the ALEC Welcoming Committee, a coalition of activist groups who've planned week-long protest and disruption actions.
DeChristopher received an unusually long sentence for his crime-2 years in federal prison while trial evidence showed past bidders who could not pay for their winning bids had not even been prosecuted. At DeChristopher's sentencing hearing, his judge said the long sentence was intended to deter other activists from engaging in direct action and civil disobedience.
"For more than 10 years ALEC has pushed what is known as the Animal and Ecological Terrorism Act, an oppressive law that attempts to intimidate activists by criminalizing free speech and peaceful, non-violent resistance," says Peaceful Uprising's Henia Belalia. "The prosecution of Tim DeChristopher is a product of this 'green scare' culture that ALEC helped developed and continues to push. But Peaceful Uprising is not dissuaded and we will fight back."
ALEC thrived in secrecy over the last decade, convincing state lawmakers to push their for-profit, corporate-friendly legislation. In 2010, ALEC came to many people's attention when investigations revealed that for-profit prisons wrote and supported Arizona's controversial immigration law. Earlier in 2012, the "stand your ground" law which ALEC supported in Florida and elsewhere was blamed for emboldening the shooter of Trayvon Martin and complicating the prosecution.
Citing ALEC's push for voter suppression laws and the "stand your ground law," groups such as Common Cause and Color of Change have targeted ALEC's corporate sponsors and legislative members. Environmental groups have criticized ALEC for attacking the EPA's ability to protect the environment and regulate greenhouse gases. In response to the clamor, more than 26 corporate sponsors including Coca-Cola and Walmart have left the organization, as well as more than 50 lawmakers.
"ALEC is bleeding and the people are winning," Belalia says. "Our street protests will create a hostile environment for ALEC and its members that we think will further encourage lawmakers to drop out of this anti-democratic organization and shame the corporate funders. Our goal is to contribute to the complete shut-down of ALEC and any other corporate groups that prioritize profits over the environment."
The ALEC Welcoming Committee, an activist coalition Peaceful Uprising has supported, has protest actions planned for each day of ALEC's conference July 23-28.
###
Meanwhile, back in the DRC...www.friendsofthecongo.org/
Length: 12:30 minutes (5.72 MB)
Format: MP3 Mono 44kHz 64Kbps (CBR)