Voices from the Edge on 09/01/11
Air date:
Thu, 09/01/2011 -

8:00am

-

9:00am
Short Description:
Growing up black in white suburbia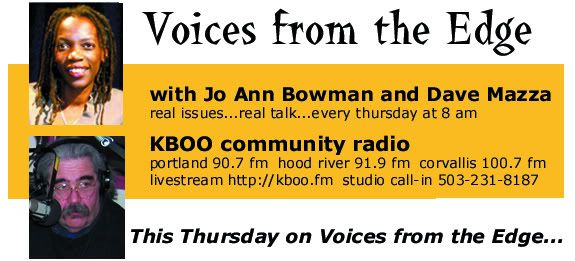 Growing up black in white suburbia
What does it mean growing up where your classmates and neighbors don't look like you? How does that shape your sense of self-identity? These questions go directly to the experience of a rising number of African American girls growing up in Portland's white suburbs. Can their experience help all of us better understand perceptions of ourselves, others and the community?
This week on Voices from the Edge, we explore these questions with local filmmaker Melissa Lowery, whose documentary "Black Girl in Suburbia" examines the stories of young African American women dealing with race and identity in a predominantly white environment.
Jo Ann Bowman is a former state legislator, former executive director of Oregon Action and past board president of Portland Community Media as well as a long-time leader in the struggle for racial and economic justice. Dave Mazza is a freelance journalist and former editor of The Portland Alliance who has covered and been involved in Portland's civil rights, environmental, labor and peace movements for over 20 years
Join Jo Ann and Dave every Thursday as they bring you guests and conversations on the issues that are important to you. Support Voices from the Edge by becoming a member of KBOO today (just click the "tip jar" on our website to find out how).
Co-Hosts: Jo Ann Bowman and Dave Mazza
Producers: Dave Mazza and Jo Ann Bowman
Program Engineer: Steve Nassar
Audio Editor: Alicia Olson