Voices from the Edge on 08/11/11
Air date:
Thu, 08/11/2011 -

8:00am

-

9:00am
Short Description:
Getting Portland Back on Track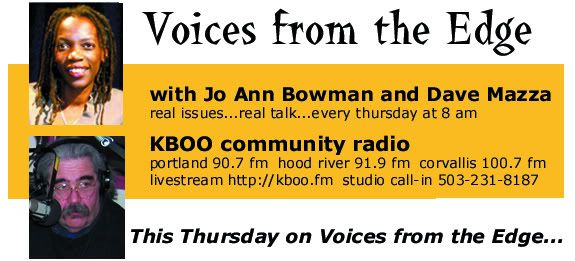 Getting Portland back on track
Wednesday morning federal agents raided the office of the city's parking manager as part of a growing public corruption investigation. The city pursues a $52 million renovation of the Memorial Coliseum while access to affordable housing continues to shrink. Recent budget tracking shows massive investments downtown while residential streets in east Portland remain unpaved. How did we end up with these priorities and how do we get back on track as we approach another round of city elections next year?
This week on Voices from the Edge, we look at the crisis in city leadership and at what issues need to be part of the public discourse as candidates begin ramping up their city council campaigns. We'll also look at whether the current problems reflect a deeper problem in our city, requiring reform of municipal government infrastructure Join us in considering how to get Portland back on track.
Jo Ann Bowman is a former state legislator, former executive director of Oregon Action and past board president of Portland Community Media as well as a long-time leader in the struggle for racial and economic justice. Dave Mazza is a freelance journalist and former editor of The Portland Alliance who has covered and been involved in Portland's civil rights, environmental, labor and peace movements for over 20 years
Join Jo Ann and Dave every Thursday as they bring you guests and conversations on the issues that are important to you. Support Voices from the Edge by becoming a member of KBOO today (just click the "tip jar" on our website to find out how).
Co-Hosts: Jo Ann Bowman and Dave Mazza
Producers: Dave Mazza and Jo Ann Bowman
Program Engineer: Steve Nassar
Audio Editor: Alicia Olson