It's KBOO's Fall Membership drive Donate Now!
Call 877-500-5266 (KBOO)
Donations as of 10/01/2014 6 AM:
Drive Goal:
$80,000
---
Matthew Fox on the Pope's War
program date:
Thu, 06/16/2011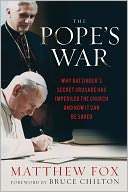 Matthew Fox, a Roman Catholic liberation theorlogian, was silenced by the church but he refused to stay silent. In his latest book, The Pope's War, he discusses the new Inquisition of Cardinal Ratzinger, now Pope Bnedict. We also talk about the suspicious death of John Paul 1, who was pope for only 34 days.
Length: 29:09 minutes (26.68 MB)
Format: MP3 Mono 44kHz 128Kbps (CBR)