Voices from the Edge on 06/09/11
Air date:
Thu, 06/09/2011 -

8:00am

-

9:00am
Short Description:
Weathering Oregon's foreclosure tsunami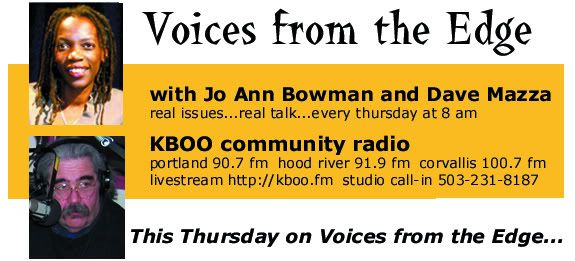 Weathering Oregon's foreclosure tsunami
For most Americans, April brought a decline in new foreclosure actions. But Oregon earned a dubious distinction of seeing its rate skyrocket 236 percent from possibly as many as 3,700 new filings. Some state lawmakers are responding to this growing crisis with proposed new oversight of the changing mortgage market. They are also seeking to extend current law prohibiting a lender from foreclosing until the homeowner has had the opportunity to request and receive a loan modification meeting and review.
This week, Jo Ann and Dave speak with Angela Martin, executive director of Economic Fairness Oregon about the foreclosure surge and the challenges facing passage of legislative remedies for Oregon homeowners.
Jo Ann Bowman is a former state legislator, former executive director of Oregon Action and past board president of Portland Community Media as well as a long-time leader in the struggle for racial and economic justice. Dave Mazza is a freelance journalist and former editor of The Portland Alliance who has covered and been involved in Portland's civil rights, environmental, labor and peace movements for over 20 years
Join Jo Ann and Dave every Thursday as they bring you guests and conversations on the issues that are important to you. Support Voices from the Edge by becoming a member of KBOO today (just click the "tip jar" on our website to find out how).
Co-Hosts: Jo Ann Bowman and Dave Mazza
Producers: Dave Mazza and Jo Ann Bowman
Program Engineer: Steve Nassar
Audio Editor: Alicia Olson
---
kboo community radio
portland 90.7 fm hood river 91.9 fm corvallis 100.7 fm
kboo.fm
studio call-in 503-231-8187