Please welcome Tom Hood!
I'd like to welcome to KBOO a familiar face -- Tom Hood, our interim Chief Engineer.
In a lot of ways, Tom has been at KBOO since the beginning, but being "new" means he's bringing in some new ideas.
He is quick to talk about his goals: making the engineering department inclusive, bringing in people who have some KBOO institutional memory, and ensuring that KBOO has high-quality audio.
Tom has a long and storied history with radio, and with KBOO. His grandmother, Ina Hood, was a KEX & KOIN radio personality until 1927. His uncle, William Hood, was a session man in Hollywood responsible for the jazz-influenced horn arrangement on Steely Dan's Aja. His aunt, sculptor Julie MacDonald, lived with hyenas ... and Charlie Parker, for 6 of the last 7 years of his life. His father, audio preservationist Ernie Hood, was one of KBOO's founders.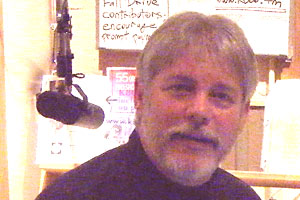 As Tom puts it, he was "raised by jazz wolves". He grew up in radio and sound engineering, building his first crystal set when he was five, and wondering at hearing KISN without wires or batteries.
You may know Tom as Tommy Hollywood, his programmer persona. How he got the moniker is a great story: family friend Nancy King's son couldn't pronounce 'hood' and somehow it became 'hollywood' -- and it stuck.
Tom has been around KBOO off and on since the mid-70s. He has produced and hosted a late-night rare music and comedy show, served as Technical Director for remote broadcasts such as the Waterfront Blues Festival, NoFest and Pickathon, and recorded performances of guests musicians to remaster as CD compilations for membership drive premiums. He has served as Board liaison to KBOO Engineering Committee and as Vice President of KBOO Board of Directors. And, he has chaired a New Frequency Group and applied for four new station licenses, winning the Pendleton license for KBOO.
He's also had some radio experience elsewhere, producing remote broadcasts, providing sound and broadcast engineering support, as well as programming and other duties as required (program directing, fundraising), at KMUN FM (Astoria), WLNV FM (Derby, CT), and KAOS FM (Olympia).
He has specialized in remote field recording, sound design, and has also worked with the Oregon Historical Society, providing audio restoration services for their "Portland" exhibits.
I am very happy he is here!