Voices from the Edge on 12/23/10
Air date:
Thu, 12/23/2010 -

8:00am

-

9:00am
Short Description:
Who was good and who was bad in 2010?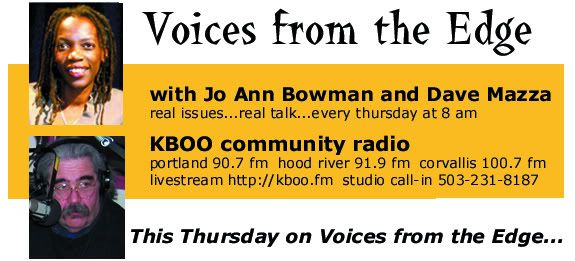 It's that time of year when Jo Ann and Dave review which of our public figures deserve
a gift in their stocking and which deserve a lump of coal. They'll also be asking listerners
to share their holiday list of candidates. Will it include Senator John McCain for his blind
opposition to "don't ask, don't tell" or Governor-elect John Kitzhaber for stonewalling
single-payer health care advocates once again or, even closer to home, Portland Police
Chief Reese and his public position on participatory democracy?
Jo Ann Bowman is a former state legislator, former executive director of Oregon Action,
and a long-time leader in the struggle for racial and economic justice.
Dave Mazza
is a
freelance journalist and former editor of The Portland Alliance who has covered and been
involved in Portland's civil rights, peace, labor and environmental movements for 20 years.
Join Jo Ann and Dave every Thursday as they bring you guests and discussion of issues
important to you. Support programming like Voices from the Edge by becoming a member of
KBOO today.
Program Engineer: Steve Nassar
Audio Editor: Alicia Olsen
---
Voices from the Edge
KBOO community radio
portland 90.7 fm hood river 91.9 fm corvallis 100.7
livestream kboo.fm
studio call-in 503-231-8187