Voices from the Edge on 10/14/10
Air date:
Thu, 10/14/2010 -

8:00am

-

9:00am
Short Description:
Ballot measures and bucks: a look at the scramble for tax dollars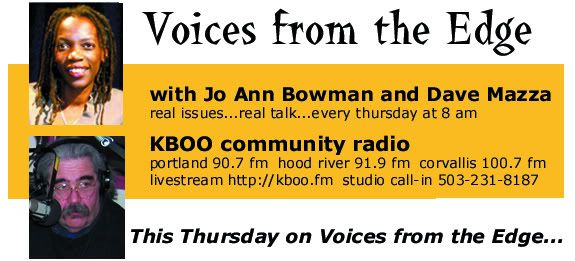 Ballot measures and bucks: a look at the scramble for tax dollars

New emergency response systems for the fire bureau. Funding for the historical society. Additional revenue to cover mandatory sentences for sex offenders. Bonds for improving transit service and access for the elderly and disabled. This November voters face an array of ballot measures at the state and local level seeking new money or redirection of existing funds for critical and not-so-critical public services. With Oregon's economy still reeling, which of these measures deserve our vote?

This week, Jo Ann and Dave will look at the ballot measures carrying a financial impact and what voters will be getting for their "yes" vote. Also this week, Common Cause Oregon's Janice Thompson will update listeners on why its important to renew Portland's voter-owned election law.


Don't forget its KBOO's fall membership drive! Show your support for Voices from the Edge and other independent community programming by becoming a member of KBOO 90.7 FM.


Jo Ann Bowman
is a former
state legislator
, former executive director of Oregon Action, and a long-time leader in the struggle for racial and economic justice.
Dave Mazza
is a freelance journalist and former editor of
The Portland Alliance
who has covered and been involved in Portland's
civil rights
, peace, labor and
environmental movements
for 20 years.
Join
Jo Ann
and Dave
every Thursday
as they bring you guests and discussion of issues important to you. Support programming like
Voices from the Edge
by becoming a member of KBOO today.
Program Engineer: Steve Nassar
Audio Editor: Alicia Olsen
---
portland 90.7 fm hood river 91.9 fm corvallis 100.7
studio call-in
503-231-8187