Voices from the Edge on 07/15/10
Air date:
Thu, 07/15/2010 -

8:00am

-

9:00am
Short Description:
Should police have a vote on police civilian review boards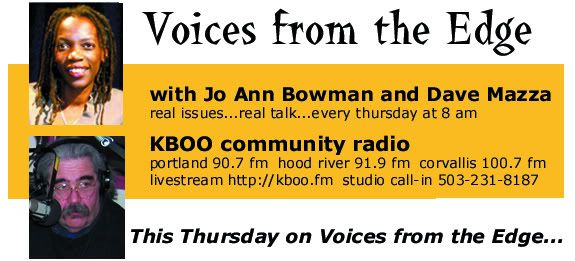 Should police have a vote on police civilian review boards?

Portland will have a new police review board starting September 1. Today, the Portland City Council voted 3-2 to allow the commander of a police officer involved in use of force or alleged misconduct to have a vote in determining whether the officer acted within policy and, if warranted, recommend discipline. Commissioner Randy Leonard, who proposed the change at the request of Portland Police Chief Mike Reese, says its a minor procedural matter that doesn't effect the power of the review board. Commissioners Saltzman and Fritz, who voted against the proposal, expressed concern that city-hired consultants recommended against such a proposal in 2003 and 2006. Those opposing the change include the American Civil Liberties Union Oregon, and the League of Women Voters.

Does this make a review board "structurally flawed" as the consultants suggested in 2003 or does it strengthen accountability as Commissioner Nick Fish, who along with Mayor Adams supported Leonard's proposal, claims. This Thursday, Jo Ann and Dave take up these and other questions about this newest development in Portland's long and troubled struggle to create accountability in the police bureau.


Jo Ann Bowman
is a former
state legislator
, former executive director of Oregon Action, and a long-time leader in the struggle for racial and economic justice.
Dave Mazza
is a freelance journalist and former editor of
The Portland Alliance
who has covered and been involved in Portland's
civil rights
, peace, labor and
environmental movements
for 20 years.
Join
Jo Ann
and Dave
every Thursday
as they bring you guests and discussion of issues important to you. Support programming like Voices from the Edge by becoming a member of KBOO today.
---
portland 90.7 fm hood river 91.9 fm corvallis 100.7
studio call-in
503-231-8187