October 21 KBOO Food Show: Quirky Quinces
program date:
Wed, 10/21/2009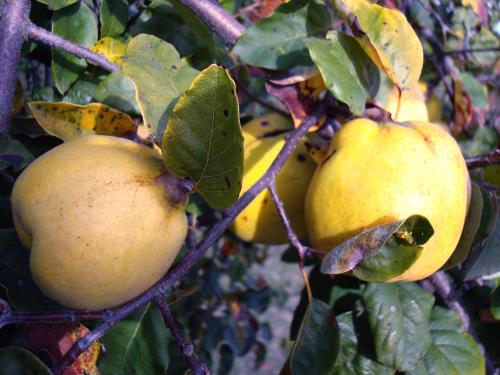 (Quinces growing at Tremaine Arkley's orchard in Independence)
Our October show featured:
Barbara Ghazarian, author of the cookbook

Simply Quince

, on how to cook with this beguiling, old-fashioned fruit.

Cookbook author Linda Ziedrich, on preparing quince paste (membrillo)

Joseph Postman, who cultivates 100-some quince clones at the USDA's National Clonal Germplasm Repository in Corvallis, home of North America's most diverse quince grove.

Sally Hilles, of Hazelnut Hill Farm near Monroe, on this year's abundant filbert harvest

.
--
For a local source of fresh quinces, contact Tremaine Arkley at 503-838-4886 or email OregonQuinces@gmail.com.