Sustainable Food Policy and Practice
program date:
Mon, 09/21/2009
Thirty years ago Portland was ringed by working farms and the community garden program was beginning to blossom. Today community gardens are still alive and well throughout Portland, but much of the old farms at the edge of town are now covered with housing and commercial development. On this segment of Locus Focus, host Barbara Bernstein talks with Mayor Sam Adams, Zenger Farm's Jill Kuehler and Clare Carver with Big Table Farm in Gaston, about why we need to protect local farms close to and inside our city. We look at the connections between land use policies that preserve small family farms and the growing movement to eat local food, and maybe even grow our own. Find out why eating and farming sustainably is a revolutionary act.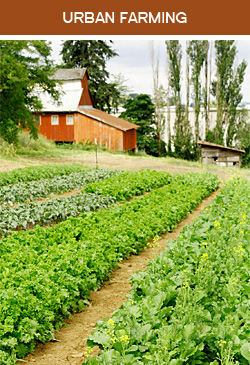 WHAT IS ZENGER FARM? WHAT WAS ONCE THE MT. SCOTT DAIRY.

Zenger Farm was first owned in the 19th Century by Jacob Johnson as part of a 320-acre donation land claim. Johnson was a sawmill operator who furnished lumber for some of Portland's earliest homes. Johnson Creek later was named for him. The land passed through several owners and eventually was purchased in 1913 by Ulrich Zenger, a Swiss dairy farmer. Zenger operated the Mount Scott Dairy, lived in the farmhouse, and farmed the land. When he died in 1954, the farm went to his son, Ulrich Zenger Jr., who lived on the farm as his father had. Ulrich Zenger Jr. operated the farm but did not maintain it as a commercial enterprise.

It was Zenger Jr., who, with great fondness for the place that had been his home, had the foresight and determination to protect the land from commercial development and preserve its integrity as a farm. In the mid-1980's, Zenger Jr. explored ways to preserve his farm and allow future generations to develop a mutually sustaining relationship with the land and a respect for it's heritage, as Zenger himself had done for more than eighty years.

The land was purchased by the City of Portland's Bureau of Environmental Services (BES) in 1994, five years after Ulrich Zenger Jr.'s death. BES saw in Zenger Farm an opportunity to promote environmental stewardship in a way that would complement BES' long-term conservation plans for the Johnson Creek Basin and Watershed. BES preserved the farm and its wetland as a collection point for the area's storm water. It was in June of 1995 that the land became a working farm again. Marc Boucher-Colbert knew good soil when he saw it. He leased the farmland from BES and, through his Urban Bounty Farm, not only cultivated the land but promoted educational and community events on the site. Urban Bounty Farm formed partnerships with the Environmental Middle School and the Portland State University Capstone Program, among others, to broaden the farm's availability as an open-air classroom.

Zenger Farm's expanding role as an educational and environmental resource created a need to formalize the farm's mission and establish a group to maintain it. In 1999, the Friends of Zenger Farm was assembled. They authored the Zenger Farm Master Plan, obtained the City's approval of the Conditional Use Master Plan, and partnered with BES to secure a 50-year lease of the property. Ulrich Zenger Jr.'s family farm was now, officially and sustainably, a public space.

Incorporated in 1999, Friends of Zenger Farm is a non-profit farm and wetland in outer southeast Portland dedicated to promoting sustainable food systems, environmental stewardship and local economic development through a working urban farm. Friends of Zenger Farm utilize the combination of a 10-acre wetland adjacent to the 6-acre organic farming operation to provide unique experiential learning opportunities for youth, farmers and families in subjects such as sustainable agriculture, wetland ecology, food security, healthy eating and local economic development.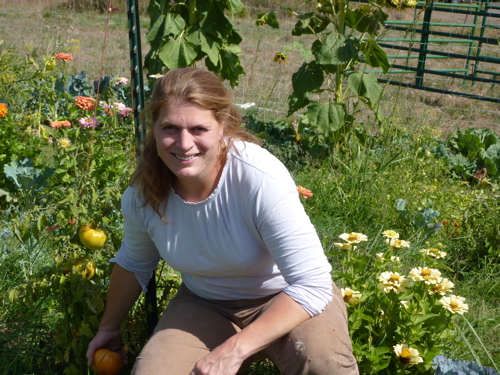 BIG TABLE FARM is a small family farm in Gaston, Oregon, run by Clare Carver and Brian Macy. They named their Farm after a desire to provide a gracious and welcoming table for themselves and friends, with a cornucopia of hand-crafted food and wine. They are establishing a working farm, where they raise pasture poultry, pigs, cows, and egg-laying chickens and a large vegetable garden. They are working towards a managed intensive grazing system of farming that builds soil, sequesters carbon, and creates a healthy, sustainable and diverse farm.

Sam Adams is the mayor of Portland, Oregon and an avid gardener. When he was growing up he wanted to be a farmer.