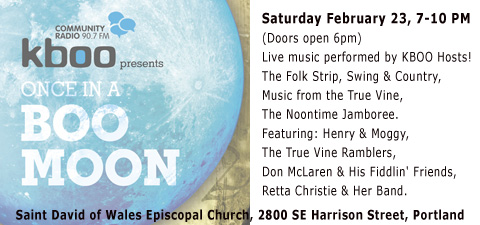 Once in a Boo Moon
Wednesday, May 22, 2013

2:00 PM

-

4:00 PM

Dick Berk Live - and R.I.P. Alice Brown on

Jazz in the AfternoonPortland drummer Dick Berk is able to join us live(on his birthday!)with his choice of his own recordingsfrom his very swinging near-60-year jazz career. First, we'll remember Alice Brown,the "Grande Dame" of Portland jazz audiences. We invite anyone with stories,or Alice's favorite music, to our June 5 showto share. After the 3:30 May 22 jazz calendar,we'll preview Anandi's new CD,and close with 2 tunes to celebrate this friday'sNational Tap Dance Day. Hope you'll tune in and enjoy. With regards,your host,Bob Riddle

7:00 PM

-

8:30 PM

Panel on The Portland Women's Movement: Fighting for Ideas and Dollars on

Special Programming: Public Affairs Live Broadcast on KBOO: Panel on The Portland Women's Movement, Part 3: Building: Fighting for Ideas and DollarsOrganized by the History of Social Justice Organizing & the Center for Women, Politics and PolicyWhere: 2nd floor Gallery, Urban Affairs Building, Portland State University, 506 SW Mill, PortlandFree and open to the publicTen years before gaining official recognition as a program, female students and professors met to plan and implement the inclusion of Women's Studies courses at Portland State University. They held an event in the school's ballroom and began offering ad hoc classes., later hiring a coordinator. Eventually Women's Studies became an official program and then a department offering a major.
Thursday, May 23, 2013

9:30 AM

-

10:00 AM

Resistance Ecology;Interview with Animal Rights activist Justin Kay on

A Deeper LookResistance Ecology, a new organization and a new movement intent on bringing together activists and organizations from both Animal Rights and Social Justice to form an adaptive and resilient movement capable of responding to the government's ever changing modes of suppression. The First Annual Resistance Ecology Conference is this May 31st at PSU. Join me Linda Olson Osterlund and organizer Justin Kay to talk about resistance ecology and the upcoming conference.

11:00 AM

-

11:30 AM

Jean Kwok, author of "Girl in Translation" on

Between the CoversHost Sarika Mehta interviews best-selling author Jean Kwok, who is best known for her novel Girl in Translation. Jean Kwok visited Portland in April as part of PCC Reads 2012-2013: Girl in Translation.Jean Kwok immigrated from Hong Kong to Brooklyn when she was five and worked in a Chinatown clothing factory for much of her childhood. She won early admission to Harvard, where she worked as many as four jobs at a time, and graduated with honors in English and American literature, before going on to earn an MFA in fiction at Columbia.
Friday, May 24, 2013

9:00 AM

-

12:00 PM

The Vanport flood and racism in Portland: sixty five years later on

Special Programming: Public Affairs Sixty five years ago this week, the Columbia River flooded into the largest public housing project in the U-S at the time, leaving 18,000 black people homeless and changing race relations in Portland forever.On Friday May 24th, from 8 am to noon, KBOO presents a special program on the Vanport flood and racism in Portland, sixty five years later.We'll feature historians and archived audio, as well as a discussion led by PSU professor and activist Walidah Imarisha asking 'Why are there so few black people in Oregon'.

6:00 PM

-

7:00 PM

"The House that Herman Built", living exhibit by Jackie Sumell on

Bread and Roses"WHAT KIND OF HOUSE DOES A MAN WHO HAS LIVED IN A 6' X9' BOX FOR OVER 30 YEARS DREAM OF?" This is the question that artist and activist Jackie Sumell asked Herman Wallace in 2003. Herman has been in solitary confinement or Closed Cell Restriction [CCR] for over 40 years. He spend most of thiese years at The Louisiana State Penitentiary, also know as Angola. He is one of the "Angola 3" along with Robert King and Albert Woodfox.Listen to Jackie recounting how she became aware of Herman's cndition and how they collaborated on an art exhibit meant to raise awareness about the prison industrial complex and the trauma of solitary confinement.Check out The House That Herman Built
Saturday, May 25, 2013

2:00 PM

-

5:00 PM

Jim Pepper: Re-imagining a Jazz Sensibility on

The Motif: Re-Imagine a Jazz SensibilityJim Pepper: Re-imagining a Jazz Sensibility on KBOO 90.7FMTune into KBOO 90.7FM this Saturday May 25 2:00-3:30pm PST for an hour and a half of rare Jim Pepper audio tracks, Jim PepperFest 2013 updates and sparkling, witty and erudite conversation on The Motif's show.Live streaming here: http://kboo.fm/themotifOne of the great things about KBOO (Full Strength Community Radio) is that the station's programmers have such wide latitude with their time, with time itself, in that they can play tracks that most stations won't touch because of their length.Jim Pepper never recorded for pop radio. Probably 95% of his recorded tracks are longer than five minutes. You need a long attention span to really hear and understand his music.